SchnellNet's Backbone Network
SchnellNet has the world's largest backbone network. We also peer with everybody at everywhere.* In fact, we peer directly with your personal computer, since our Cisco 26000000 routers can hold enough routes to map directly with every IPv4, IPv6 or IPv8-dual cylinder device in the universe.
Our Terrestrial Backbone: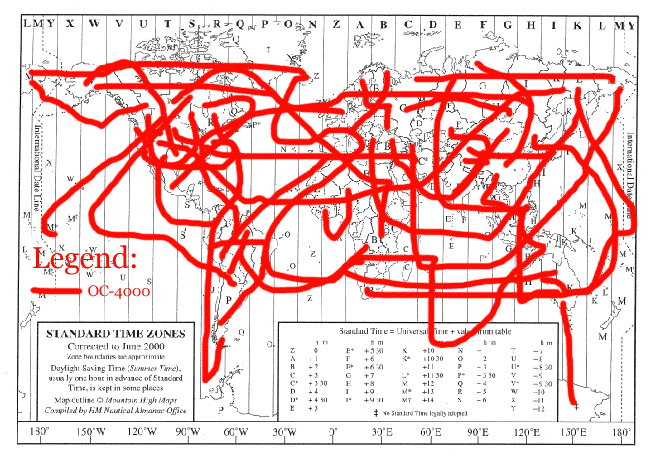 US/International Peering Points:
MAE East/Tyson's Corner, VA
MAE West/San Jose, CA
Ameritech AADS/Chicago, IL
Pac Bell NAP/San Francisco, CA
Sprint NAP/Pennsauken, NJ
Neutral NAP/McLean, VA
MAE Dallas/Dallas, TX
MAE LA/Los Angeles, CA
LIX (London Internet eXchange)/London, UK
EUNAP (European Union NAP)/Brussels, Belgium
VNAP (Vancouver NAP)/Vancouver, British Columbia, CA
AlohaX (Hawaii eXchange)/Ewa Beach, Oahu, HI
HKNAP/Hong Kong, China
InterMel/Melbourne, Australia
CyberSiber/Novosibirsk, Siberia, RU
QuadaffiNAP/Tripoli, Libya
VANexchange/Palumanutanuvaasu, Vanuatu
Some Guy's Token Ring Office LAN/Karamakaplakastan, Kablooiestan, CIS
Our Solar Backbone: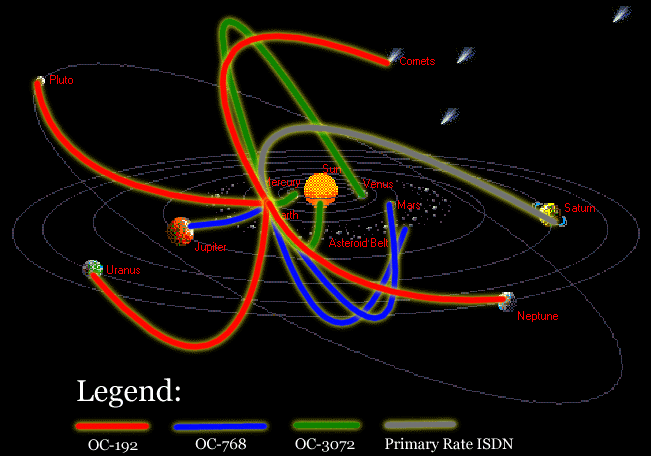 Intrastellar/Interstellar Peering Points:
MAE Mars/Mons Olympus, Mars
MAE Neptune/Coriolis, Neptune
MAE Jupiter/Io, Jupiter
MAE Sol/Flare #445967821, The Sun
MAE Comet/Comet Hitaku/Barr (note: full connectivity only available every 1,476 years during closest pass to sun)
MAE Asteroid Belt/Asteroid ML44678 (note: SDSL not available from this POP)
MAE Saturn/Ring #6, Saturn (note: BISDN will be upgraded to OC-6933 in June, 1996)
* Note: "Peering with Everybody at Everywhere" does not include UUnet, SprintLink, Cable & Wireless, GTEi/Verizon, PSInet, AT&T, AOL, AboveNet/NetAccess, Exodus, NetFail, ZipLink, CRL, CAIS, RCN, Globix, Rocky Mountain Internet, Prodigy, GEnie, Freenet, Napster, e-mail, FTP, or anything else that isn't IMAP connections to AGIS.